We all seek products and services to make our lives easier in today's hectic world.
Nowadays everyone has a busy schedule, the main issue that arises when it comes to buying and selling properties is finding people to sell the property, visiting place to place to find the right property, planning to buy without comparing, and so on.
To ease your life there are many real estate websites in India. There has been an advantage of real estate websites as they provide true-to-life information with just one click at your convenient time.
Especially, they provide much information like pricing, location, luxuries, land measurement, and special filters that help in selecting property according to your selection.
Best 5 Real Estate Websites In India
Finding a property is more than just an online search. As a result, we've compiled a list of the top 5 best real estate websites in India for buying and selling property in 2023. 
Ewen Realtors
99 Acers
MagicBricks
Makaan
CommonFloor
We are introducing some of the best property sites in India.
1. Ewen Realtors – The best real estate website in India

Ewen Realtors is the first on the list of the top real estate websites in India. It is one of the best real estate services providers in India.
This real estate firm was founded with the aim of "Defining Dreams." They are establishing a reliable reputation in the real estate industry. Since 2011, Ewen Realtors has evolved to become an authorized brand in the real estate industry
They are working towards their goal, and they've gone over every step of the real estate transaction. They promise to walk you through every step of the process, including purchasing, construction, paperwork, home financing, and so on.
However, Ewen Realtors is constantly rising as a leading real estate service provider throughout Uttarakhand. They are one of the best real estate corporations in the area.
It is a subtly portrayed lifestyle and skyline of residential and commercial projects in Uttarakhand.
They are moving quickly, taking all sense and ambition to the next level, and providing an endless commitment to quality, a premium lifestyle, and affordable luxury.
Although they highlighted customer needs. The purpose of Ewen Realtors is to achieve maximum returns and earnings for its customers, investors, and members while remaining genuine and maintaining its founding principles.
2. 99 Acers – oldest real estate website in India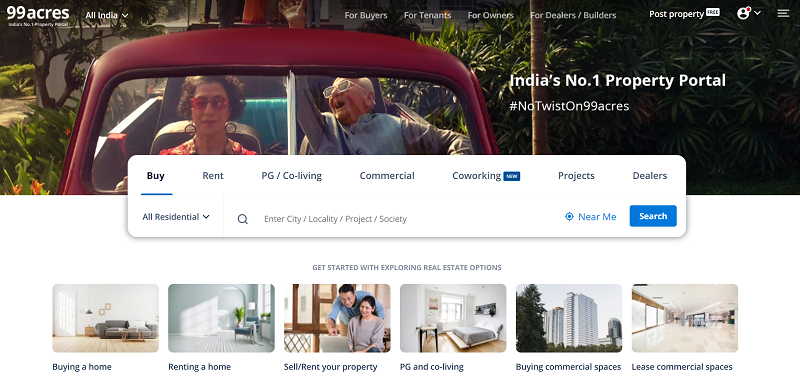 99acres.com, which defines itself as India's No. 1 property portal.
Therefore, It was founded in 2005 and designed to cater to all aspects of the real estate industry. It is an online forum where buyers, sellers, and brokers/agents can quickly, effectively, and cost-effectively exchange information about real estate properties.
So, you can promote, explore, browse and can create your property microsite, and keep up with the latest news and trends in the real estate industry at 99acres.com.
3. Makaan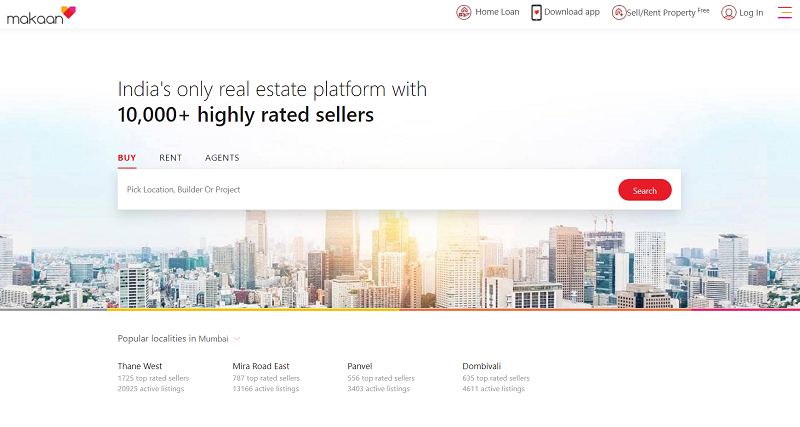 Makaan's USP is its database quality, which is superior to that of competitors in a few cities such as Ahmedabad, Pune, and Hyderabad.
Its vision is to deliver dependable experiences that you will remember for a lifetime.
Their main aim is to be our customers' partners' first choice when it comes to finding, renting, buying, selling, and financing a home.
4. CommonFloor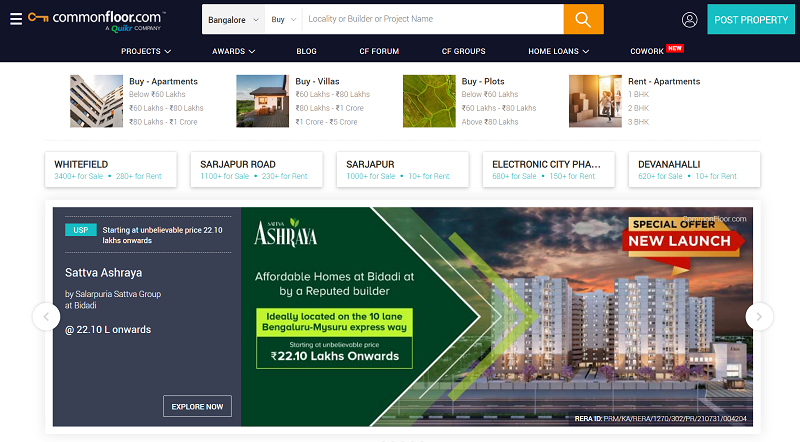 CommonFloor has all potential property attributes of active property for over 5 lakh and listings in over 200 cities.
It was founded in 2007 to add value to every property purchase its customer makes. Therefore they usually target big cities like Mumbai, New Delhi, Bangalore, Pune, and others.
5. MagicBricks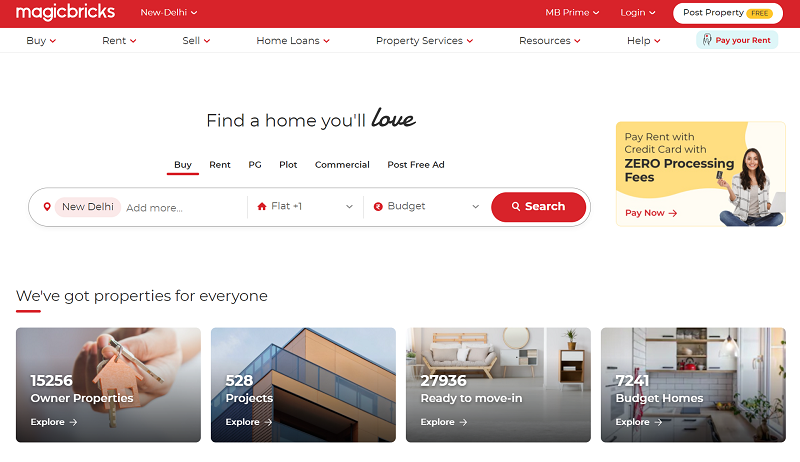 MagicBrick is India's well-known real estate website. It is an online portal to sell/purchase properties. They provide detailed pictures of properties and work on the issues people generally face during the process.
However, MagicBricks was launched in 2006, the website only worked on PC, but in 2011 they also launched a mobile-friendly interface.
FAQ's
Conclusion
This blog briefly describes India's top 5 and best websites for Real Estate search. We understand that people do not have time to buy and sell real estate from place to place and from person to person.
Therefore, real estate websites are the best medium to solve this problem. By applying a filter, you can easily list and search for any property and effortlessly get all the details you need from the website.
So, these websites are designed to make your real estate journey efficient and convenient.