Places to visit in Ranikhet is one of the most asked questions of all time. Ranikhet is one of the most exquisite and tranquil hill stations in Uttarakhand. It has the most panoramic beauty with a clear sight of The Himalayas. 
However, not only are the views astonishing but there are also many other hill stations connected to Ranikhet. There are innumerable tourist attractions in Ranikhet including gardens, parks, museums, temples, and much more. 
It will be worth visiting Ranikhet and you can go exploring this panoramic place without any hesitation as it is one of the most beautiful hill stations in Uttarakhand.
Climatic Conditions Of Ranikhet
If you want relief from scraping heat in summers, want to witness the green lush nature, and also want to enjoy snowfall in winters, you can visit Ranikhet anytime. Significantly it experiences delightful weather throughout the year.
Top 5 Places To Visit In Ranikhet 
In short, there are multiple tourist attractions in Ranikhet without a doubt. Ranikhet is all connected to 17 different hill stations within 100 kilometres. So, here are the top 5 places to visit in Ranikhet: 
Majkhali – Favourite Place To Visit In Ranikhet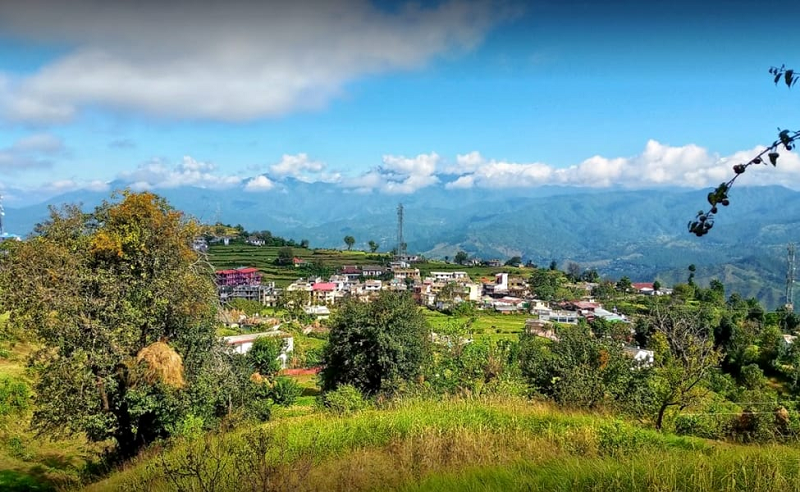 Majkhali is 12 kilometers from Ranikhet. It delivers a marvellous view of the snow-capped Himalayas. This place is also famous for the temple of "Goddess Kali".
Although Majkhali is a small village with a diverse range of flora and fauna. There is a small village Baburkhola, 5 kilometres from Majkhali which corresponds to the Scottish countryside.
The village is so lovely and has a serene environment with a glorious view of The Himalayas. Undoubtedly It is in lush green surroundings inhabited by oak and deodar.
So, Ewen Realtors are building an elite-class township in the lap of nature at Baburkhola village with all the high-class amenities under the project name "The Ewen Park".  
Thus, The Ewen Park offers luxury Villas, Cottages, and Land for residential purposes in a peaceful and calm environment surrounded by dense vegetation, delightful weather, and a view of the glorious Himalayas.
Chaubatia Garden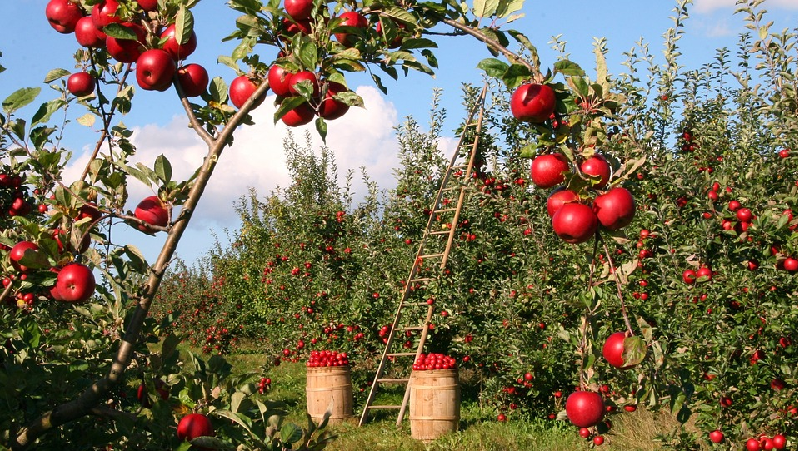 Chaubatia Garden is 8 kilometres from Ranikhet and it is spread over 650 acres of land. This garden has lush greenery and shows the clear sight of The Himalayan range like Nanda Devi, Trishul, Neelkanth, and Nanda Ghunti.
However, Chaubatia Garden is popular for its Apple Orchards and plantation of peaches, apricot, and chestnuts. Also, there is a garden store from where one can buy fresh juice and honey.
Apart from this, the trail of trekking starts from Chaubatia to Bhalu Dam (artificial lake).
Kumaon Regimental Center Museum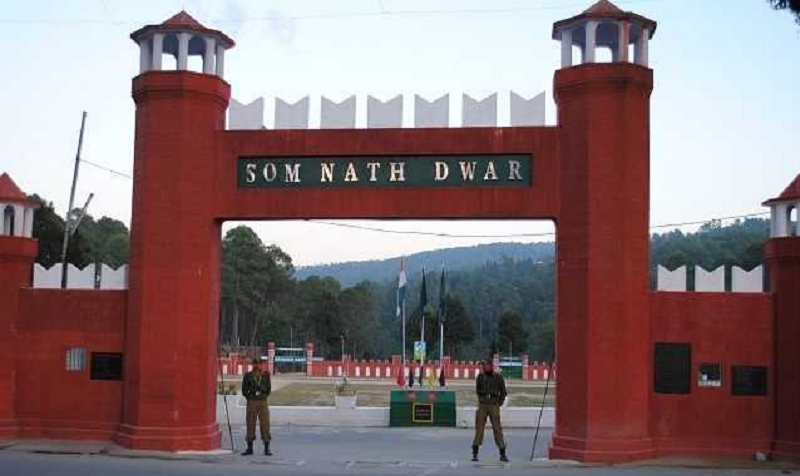 The Kumaon Regimental Centre is a very famous museum that was built in the 1970s to showcase the Kumaon Region's great history.
So, the museum is upheld by the Kumaon Regiment of the Indian Army. It has historical war artefacts portraying the greatness and achievements of the Garhwal and Kumaon divisions.
Photographs of warfares, weapons used by the armed forces, medals, and uniforms, as well as flags, and other interesting objects, are on display at the museum. It is important to note that one cannot take pictures in the museum.
Golf Ground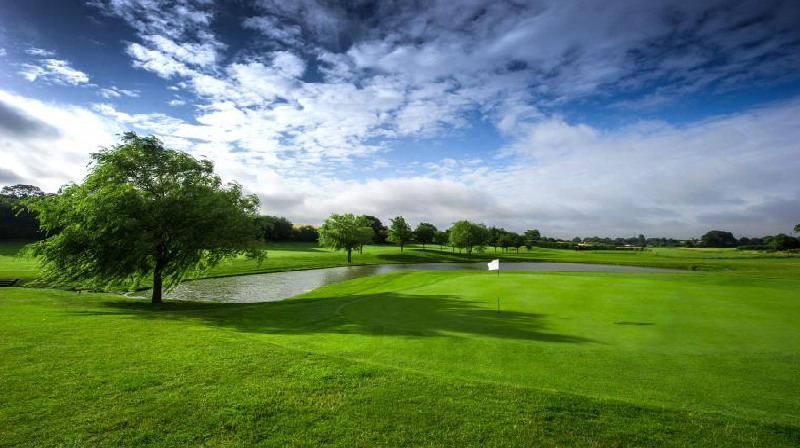 The golf ground is 6 kilometres from Ranikhet. The Kumaon Regiment is in charge of it. Upat Golf Course is also a 9-hole golf ground and it is the highest golf ground in Asia.
The Kumaon Regiment offers membership to outsiders as well. So, one can play golf on the beautifully groomed green grass with a gorgeous view of The Himalayas.
Temples – Spiritual Places To Visit In Ranikhet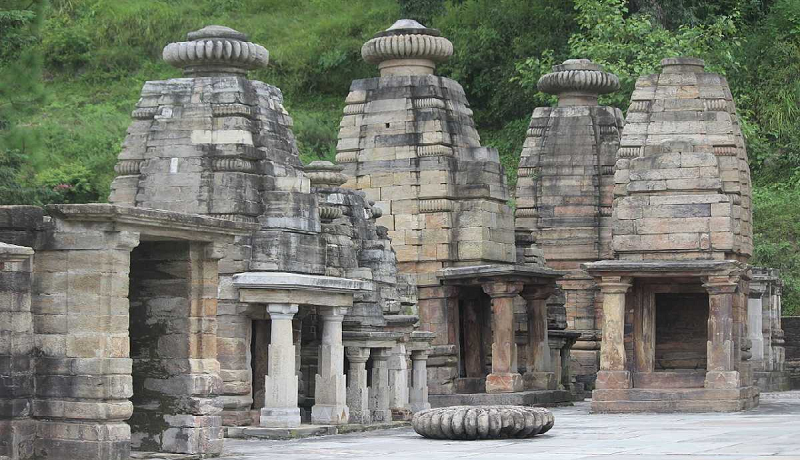 Ranikhet is not only famous for its beauty and the view of The Himalayas but it is also popular for its spiritual essence. These are the best places to visit in Ranikhet if you want to cleanse your soul. Significantly there are numerous temples in Ranikhet:
Mankameshwar Temple: built-in 1978 near Rani Jheel by Kumaon Regiment.
Binsar Mahadev Temple: The temple is famous for its architecture and has idols of Ganesh, Har Gauri, and Maheshmardini.
Haidakhan Temple: It is 5 kilometres from Ranikhet. The temple is for devotees of Lord Shiva.
Katarmal Temple: it is 24 kilometres from Ranikhet and it is an 800 years old sun temple, the second most significant temple to the sun god the first one is in Orissa.
Jhula Devi Temple: it is 8 kilometers from Ranikhet. The temple is devoted to Maa Durga. There is a very interesting story behind building this temple.
Ram Mandir: This temple is to Lord Ram. People who are curious about Vedas should visit this temple.
FAQ's
Conclusion
Ranikhet is a serene and panoramic hill station with a clear sight of The Himalayas. Ranikhet is also famous for its pleasant weather and it also experiences snowfall in the winter season.
There are numerous tourist attractions in Ranikhet with amazing history as well. So, we have listed the 5 best places one should visit in Ranikhet:
1. Majkhali – The best place to visit in Ranikhet
2. Chaubatia Garden – For the nature lover
3. Upat golf ground – Asia's highest golf course
4. Kumon regimental centre museum – Patriotic place to visit in Ranikhet
5. Famous Temples like Ram Mandir, Jhula Devi Temple, Katarmal Temple ( Sun Temple), Binsar Mahadev Temple, Haidakhan Temple, and many more.