Return on investment (ROI) helps a person to make a smarter choice among assets so that you can generate potential profits from your investment.
The main motive for investing in real estate in 2023 is to increase and preserve your wealth so that you can stand up strong against inflation and also you can pass your wealth efficiently from era to era. 
But making the right decision of investing in property is still a tough decision to make. So to help you out and to make your investment worth it ROI becomes the savior.
But the question is what is Return on investment- ROI, how it is calculated, what is good ROI, and much more.
In this article, you will get a clear image of all the queries you have in your mind. So without any further delay, let's learn about ROI.
What Is Return On Investment – ROI?
ROI stands for Return On Investment. The Return on Investment refers to the amount of money that is saved through profits after the deduction of associated expenses.
It helps in predicting investors know when to invest, take risks, earn a profit, and so on. ROI is all about estimating the return more than you invested in real estate.
So ROI is the best indicator for an investor to estimate and compare assets before investing. Investment in real estate may be risky.
But real estate is one of the safest sectors to invest in real estate to get maximum returns.
Things needed to calculate ROI:
Property details like property value, repairing cost, etc.
Mortgage details
Rental income details
Monthly rental expense
Annual rental expense
How To Calculate Return On Investment – ROI In Real Estate?
ROI calculates the profit you make on an investment. In other words, it's the ratio of an investment's profit to its cost.
The basic mathematic method of calculating ROI is:
Income after detecting cost / Investment * 100 = ROI
Example: If you buy a property worth ₹1,50,000 and sell it for ₹2,00,000 you made a profit of ₹50,000. So ROI would be:
| | |
| --- | --- |
| Property purchase | ₹1,50,000 |
| Property sell | ₹2,00,000 |
| Profit made | ₹50,000 |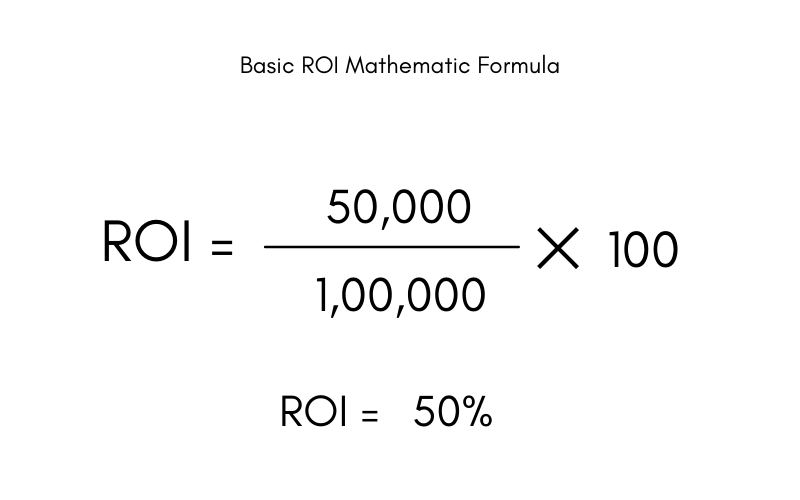 Note: All examples are only for understanding purposes; no guarantee of ROI is implied.
In the following sections, we explain in detail how ROI can be calculated using the formula containing similar costs.
Methods Of Calculating Return on investment
The above equation was simple but what if you have a mortgage to pay and also invested in maintaining?
Variables like maintenance and repairing costs, as well as leveraged loans if you borrowed to invest.
These variables subsequently affect your ROI figures, giving rise to different ways of calculating ROI.
Cost Method
It is a very simple method and is used when the property is purchased in full cash. Let's understand it with an example:
The formula for calculating ROI from the cost method:
Net operating income/ total investment * 100
( Net operating income= Cost of sold property- total investment + maintenance cost)
If you bought the property for ₹2,00,000 and the maintenance cost goes up to 50,000. If you sold the property for ₹3,00,000 then your return on investment will be:
| | |
| --- | --- |
| Investment | ₹2,00,0000 |
| Maintenance cost | ₹50,000 |
| Property Sold | ₹3,00,000 |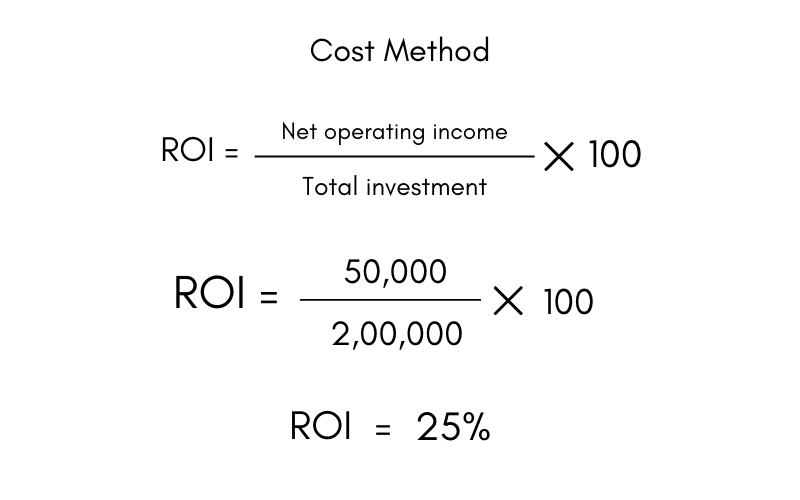 Out-Of-Pocket-Method
This method is widely used when figures are higher to calculate Return on investment.
The formula for calculating ROI from the out-of-pocket method:
Suppose you purchased the property with a mortgage. Your mortgage is ₹50,000 and you made a downpayment of ₹20,000. You also spend on renovating and maintaining which cost you ₹40,000.
The sum total of downpayment and renovation/ maintenance cost is ₹60,000. This is your out-of-pocket-investment in cash.
If you sold your property for ₹3,00,000 ( reference from the above example) then ROI is:
| | |
| --- | --- |
| Property sold | ₹3,00,000 |
| Downpayment cost | ₹20,000 |
| Renovation/ maintenance cost | ₹40,000 |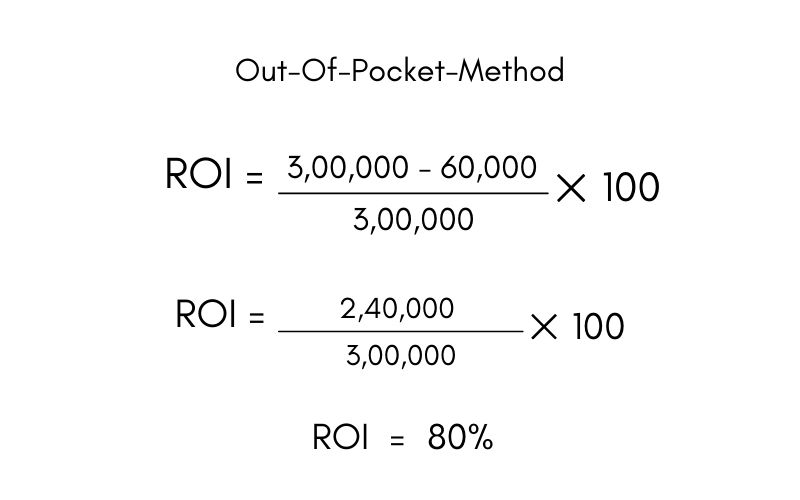 What Is Good ROI In Real Estate?
Using the RBI's House Price Index, the average return on rental real estate over the past decade has been 11.6%.
ROI on the commercial property should fall between 7-10% and If you are an owner of a rental property or going to buy a rental property then ROI should be 8-10%.

According to the experts ROI of 12% is deemed great. Also, ROI on a rental property is slightly higher than the ROI of commercial property.
Always remember higher the ROI higher the profit in real estate.
Property With High ROI In The Mountains
If you are a mountain lover and want to buy land in the mountains so we have a great opportunity for you.
You can buy property in Uttarakhand which assures higher returns (60-80%). Ewen Realtors are building up a township in Ranikhet.
Ranikhet is a beautiful lush green hill station in Uttarakhand with alluring beauty and breathtaking views.
The township is consist of plots, villas, cottages, and studio villas for sale which guarantees a high return on investment while extracting the benefits of nature's best creation.
The unique development is in a vibrant location with a spectacular view of the Himalayas. Surround yourself with the luxuries of top-notch amenities at our township.
FAQs
Conclusion
In 2023, investing in real estate is mainly about creating and preserving wealth so that you can stand firm against inflation and also pass on your wealth to future generations. 
Despite this, it is still a difficult decision to invest in property. For that reason, ROI becomes the redeemer for helping you out and making your investment worthwhile.
Return on Investment is the definition of ROI. After deducting associated expenses, Return on Investment refers to the amount of money that is saved as a result of profits.