Ranikhet is also known as "Queen Of Uttarakhand Hills" or "Queen's Meadow" This beautiful place is wrapped in luxuriant green surroundings with a view of the glorious Himalayas.
Ranikhet is in the Almora District of Uttarakhand, at an altitude of 6132 ft (1869 meters) above sea level. It is 84 kilometers from its nearby railway station, Kathgodam.
It experiences amazing weather from March to November and receives snowfall from December to February but the climate of Ranikhet remains delightful for the rest of the months.
The place is in the arms of nature. It has a diverse range of flora like Oak, Pine, Deodar, and Buransh forest that has a wide variety of fauna like Leopard, Himalayan langur, Rabbit, Barking deer, Sambar, and so on.
Tourism – Best Places To Visit In Ranikhet
The place is the perfect destination for those who love to travel. It has numerous tourist spots including temples, parks, orchids, sunset views, treks, and many more. Here are some listed below:
1. Golf Ground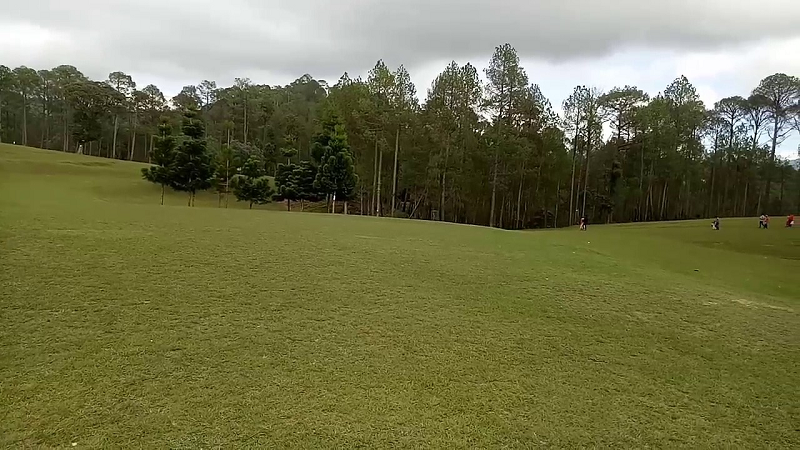 Upat Golf Course of Ranikhet is a 9-hole course and it is very popular because it is one of the highest golf courses in Asia. It is 6 kilometers from Ranikhet near Ghingari Khal and is upheld by the Kumaon Regiment. It also provides prime membership to outsiders.
2. Chaubatia Garden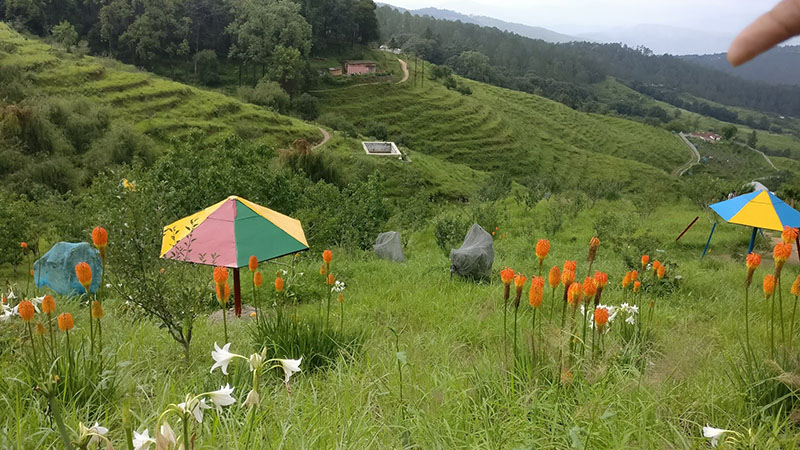 Chaubatia Garden is 10 kilometres from Ranikhet. It is the lush greenery valley famous as "Nature's Hub" because it offers plantations of juicy fruits such as peaches, apples, apricots, and many others.
It also has its own store from where you can buy fresh juice taken out from the fruits growing in the Chaubatia garden.
Apart from the orchids it also has a soulful sight of the Himalayan Beauties like Nanda Devi, Neelkanth, Nanda Ghunti, and Trishul.
3. Rani Jheel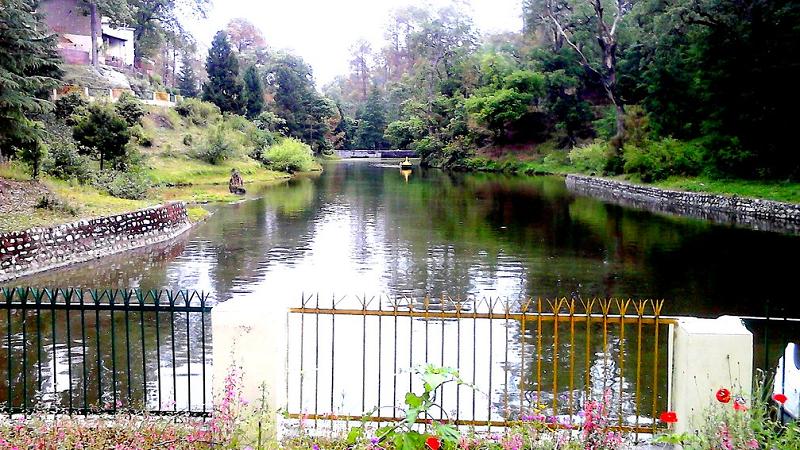 Rani Jheel is one of the famous highlights. It is an artificial lake made by the Indian Army cantonment board for rainwater harvesting, but now it is used for kayaking.
4. Majkhali- Ranikhet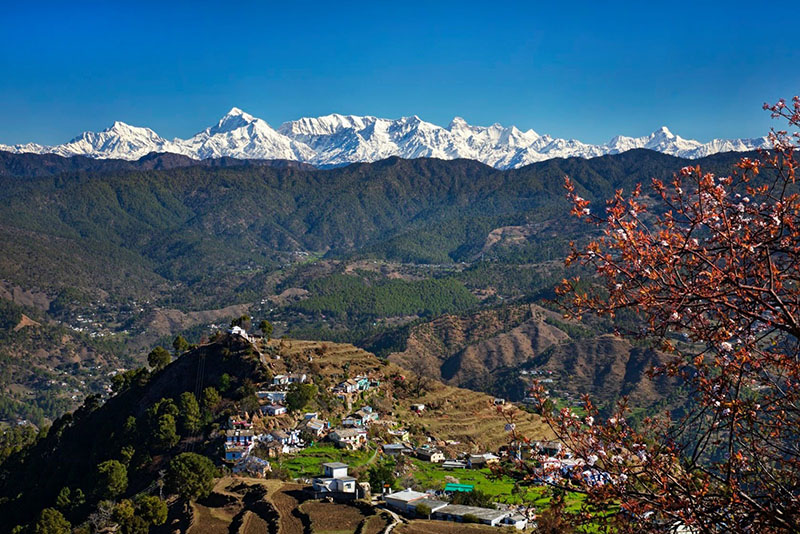 Majkhali is 12 kilometers from Ranikhet. It has the most delightful and closer view of The Himalayas. Majkhali is famous for Goddess Kali Temple. It also has a wide range of flora and fauna.
This place is widely popular as a picnic spot. It also has a breathtaking and clear view of the Himalayas.
5. Baburkhola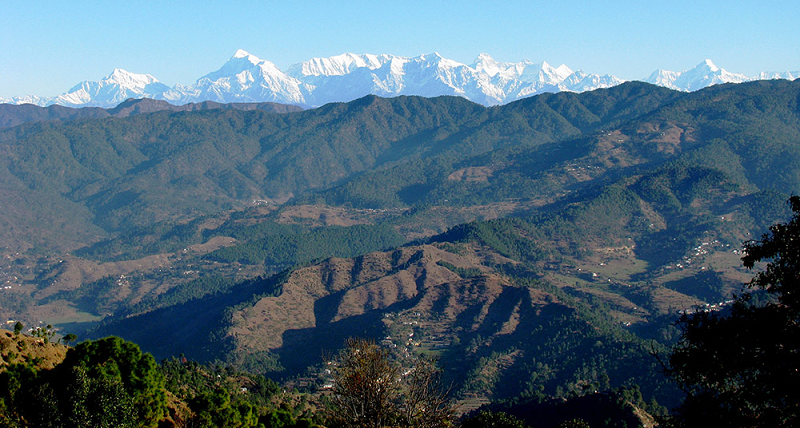 The village replicates the Scottish countryside and is a few kilometers away from Majhkali.
Baburkhola is home to a wide variety of Flora and Fauna, including Yellow Throated Marten, Leopard, Himalayan Black Bear, and others.
Nanda Devi Massif, Nanda Ghunti, Trishul Complex, Panchachuli, Mrigthuni, Nanda Kot, and other peaks are visible from the Baburkhola.
Wanna Relocate To Ranikhet – Land Of Queen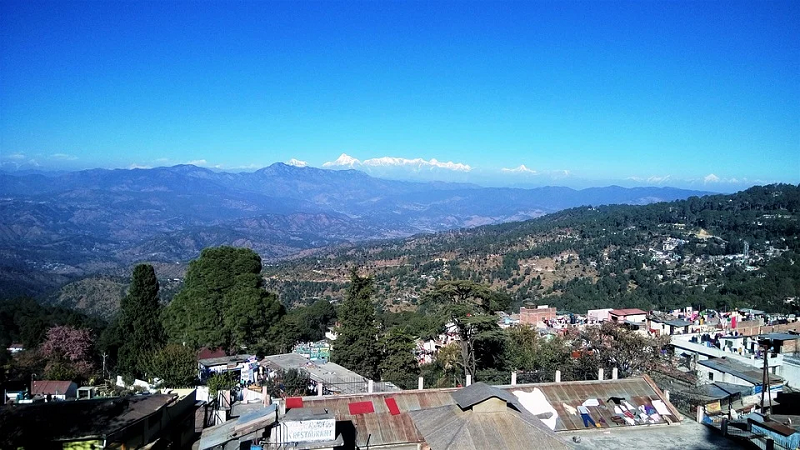 Are you pondering about resettling to the "Land Of Queens," but you are unsure how to find land or a house in Ranikhet?
You are also thinking of how you will get all the facilities like a city in the mountains?
Ewen Realtors are here to solve all your problems. They are building a township near Ranikhet for the elite class. The project is known as "The Ewen Park"

The Ewen Park is being built near Ranikhet. It has three phases in three different locations.
The phases of the township are for residential and commercial purposes. It consists of plots, villas, and studio villas. The whole project has a soulful view of "The Himalayas".
They are providing all the amenities to ease your life and make your stay worthwhile. The amenities include :
24/7 water and electricity supply
Wi-fi and mobile networks
Security ( CCTV, guard, etc)
And much more like Yoga, Sports, Temple, Party Hall, ClubHouse For Senior citizens, Cinema Hall, etc.
Know more about what it will be like to live in the world of amenities in mountains.
FAQs
Conclusion
Ranikhet was established in 1869. It is known as "Queen hills of Uttarakhand".
Ranikhet also experiences the most pleasant weather from March to October and majestic snowfall from December to February.
It has many tourist attractions like temples, trekking spots, sunset spots, parks, gardens, and so on.
Ewen Realtors are providing villas and cottages near Ranikhet. The project is known as The Ewen Park. The Ewen Village and The Ewen Studios are part of The Ewen Park project.
They are providing all the amenities to enhance the quality of living a life in the mountains with a soulful view of The Himalayas.