935 million people from all over the world celebrate Janmashtami. It is a Hindu festival commemorating the birth of Lord Krishna.
Janmashtami in 2023 will start on 06 September 2023 and end on 07 September 20233. It is celebrated on the eighth (Ashtami) day of the dark fortnight of the month Bhadrapada (August-September).
This holy festival brings spiritual prosperity, cleanses our souls, and marks the beginning of a fresh new year.
The celebration of Janmashtami starts at midnight because Krishna was born at midnight around 3228 BC.
There is a unique way of celebrating Janmashtami in India, and each region marks it differently.
Significance of Janmashtami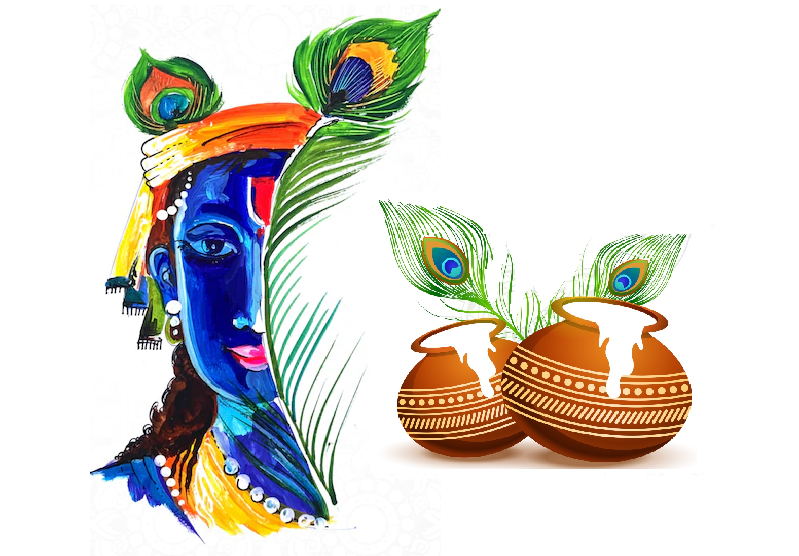 The legends also tell us that Krishna played a lot of pranks as a child, just like the butter stealing mentioned earlier.
The carvings of Krishna as a child often depict him holding a ball of butter and dancing joyfully.
The most common description of him as an adult is as a dancer or lover, often playing the flute with adoring women around him.
According to one story, he defeated the serpent Kaliya by dancing it to submission.
The Hindu god Krishna represents divine joy and love, which makes him one of the most important and beloved deities in Hinduism.
The purpose of his birth and entry into the world was to establish a religion of love. Krishna stands near a sacred cow and plays the flute as a sign of his universal love.
Krishna survived many mortal dangers due to his intelligence, strength, and agility. There is not only reverence for Krishna's holy teachings, but also for finding the inner divinity within us.
Lord Krishna And His Names
Did you know?
Lord Krishna had 108 names. Some names were Govind, Kanhaiya, Vasudev, Hari, Yadav, Shaym, and so on.
These holy and lovely names come in almost every bhajan and hymn that their devotees sing on Janmashtami.
How the world celebrates Janmashtami?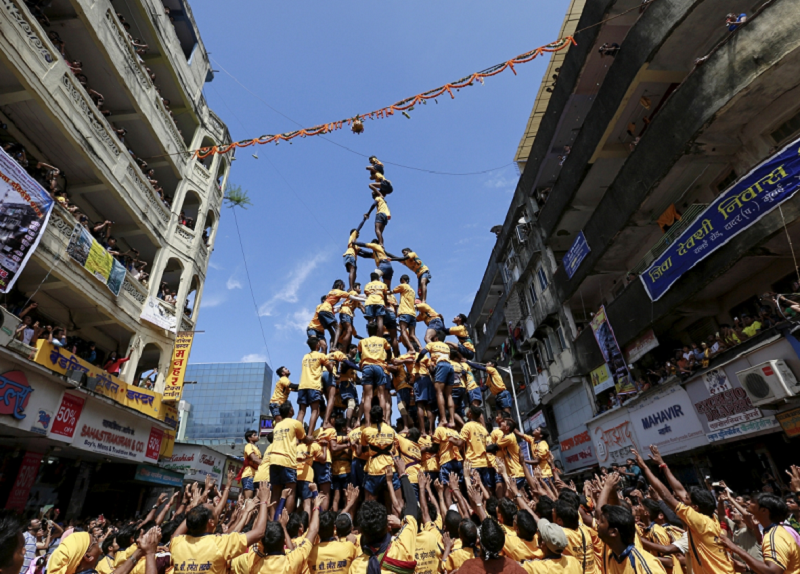 There will be rituals and prayers at Krishna-related temples all over India. The devotees fast and pray up until the time of midnight.
In Mathura (Janam Bhumi Of Lord Krishna). It is a very popular tradition in this area that people perform Krishna Lila, a folk drama made up of scenes from Krishna's life.
At temples, Krishna images are bathed and cradled, while shanks (conch shells) are blown and bells are rung. To venerate him, holy mantras are also chanted.
Human pyramids are also a striking tradition during Janamasthmi. A young boy stands at the top and the crowd lifts him to reach the clay pot.
The clay pot or Handi is filled with Buttermilk (dahi). The boy smashes the pot when he reaches the top of the pyramid, spilling the buttermilk.
The significance Krishna holds in Hinduism makes Janmashtami celebrations so important and comprehensive.
Celebration of Janmashtami is throughout the world in countries like Singapore, Malaysia, Canada, and New Zealand.
Even the UK, the US, and Poland celebrate this occasion with great fanfare, and the Macau peninsula has a unique temple to celebrate the occasion.
How does Ewen Realtors Celebrate Janmashtami?
Ewen Realtors a real estate company in Uttarakhand building a lavish township in the heart of Ranikhet. The name of the township is "The Ewen Park".
Just like the Janmashtami celebration takes place with great enthusiasm and marks the beginning of a fresh start, Ewen Realtors also want to you start a new life in a new home in a new place near nature.
This Janmashtami 2023 make the most important decision of life by investing in a property for a secure future.
Know more about our township "The Ewen Park".
FAQs
Conclusion
This sacred festival ushers in a brand-new year while purifying our souls and bringing spiritual prosperity.
Janmashtami is a Hindu festival celebrating the birth (Janam) of Lord Krishna on the eighth day of the month Bhadrapada.
Number 8 has significance as Lord Krishna was the 8th son of his mother, he has 108 different names and was born on the 8th day.
The whole world of devotees celebrated Janamsthmi with great enthusiasm and cherished this day with many activities which Lord Krishna loves like cooking his favourite food, chanting Mantras, etc.
Janmashtami in 2023 is falling on the 6th of September and ends on the 7th of September. The celebration takes place at midnight.