"The Ewen Park" is one of the most in-demand residential projects in Uttarakhand, India. The demand for the residential project is increased drastically since covid.
This township is being built by Ewen Realtors in Ranikhet, Uttarakhand also famous as Queen's Meadow as it is one of the most beautiful hill stations in Uttarakhand.
Ranikhet is also famous for some popular tourist destinations like Upat Golf Course, Kumaon Regiment Museum, Chaubatia Garden, and much more.
Apart from this Ranikhet is also connected to 17 different hill stations within 100 kilometres so you can explore them too.
Now let me tell you about the township Ewen Realtors is working on.
"The Ewen Park" – A Residential Township In The Mountains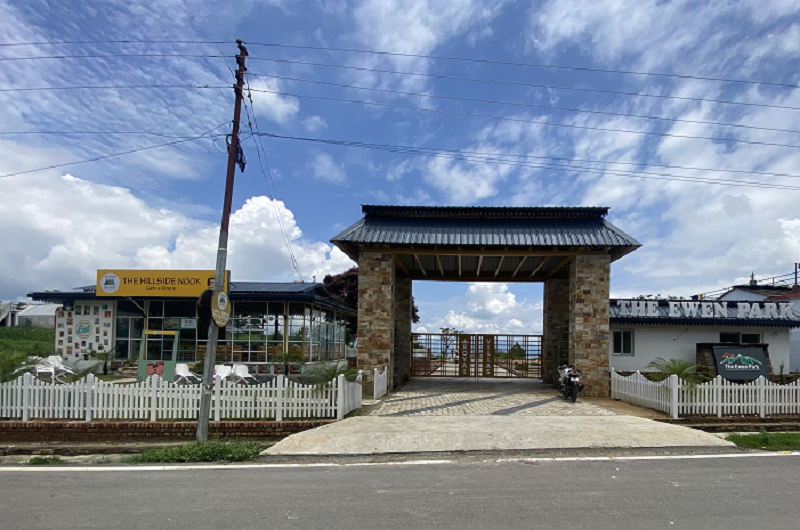 A residential township in the hills of Uttarakhand, the most popular search of all time is getting true to its word.
A township which promises you a well-balanced lifestyle. Smart living and convenient lifestyle that you wished for all your life.
Designed thoughtfully for anyone who is willing to spend more time with nature and its best creation and wants to add more time to their life.
"The Ewen Park" is the township which seeks to restore the ideal balance between man and nature, between life and living.
So keeping these all points in mind our township is divided into three phases in three different locations in Ranikhet.
Let's check out the speciality of these three phases of "The Ewen Park".
The Ewen Park – Royal Villas (Phase 1)

This phase of the township is being built in Baburkhola which is 17 kilometres from Ranikhet and it is also said that this place resembles the Scottish countryside.
Being rich in flora and fauna and also having complete vistas of the majestic Himalayas the place is perfect for a nature lover.
Also, phase 1 is the most premium phase and also most loved by people because of the tranquil environment.
Find yourself in a universe brimming with natural beauty and greenery. Take a step away from the chaos of the city and unwind in absolute comfort.
The Ewen Park – Royal Avenue (Phase 2)

Royal Avenue is in Dwarsun which is 600 meters away from the first phases of our township i.e. Royal Villas. In future, this township will get connected.
This phase is the royal phase of "The Ewen Park" passionately crafted and designed that fuses with modern living and nature.
Surrounded perfectly by the lush greenery and dense vegetation of oak, deodar and pine trees will make you feel like a world within a world.
There is no better place to find peace and serenity than in our township – amidst nature's gracious bounty and all the best that life has to offer.
The Ewen Park – Hill Village (Phase 3)

Welcome to "The Ewen Park" – Hill Village the third phase of our township and address that makes nature its poet. It is in Galli Basuyra, Ranikhet.
Feel closer to a life that is even more beautiful here as you explore this wondrous place nature has created for you.
A place where you experience new joys, have new hopes and find new meaning. Experience the mountainous life at its best.
This township has stunning river and valley views, with enhanced green features and beauty. One of the most calming phases of our township.
When you move into your new home at Hill Village you will step into a wonderful new life. It's a place where you'll breathe fresh air, enjoy better comfort spend quality time and so on.
So come and settle in this township. Know more about pricing and other details.
Amenities Offered In "The Ewen Park"
"The Ewen Park" captures the beautiful side of life a clean environment abundant space and seamless connectivity with a truckload of amenities.
Experience innovative living at "The Ewen Park" where life blooms. Amenities provided in the township are:
On-site maintenance
Security system
UHF-based entry
24/7 water and electricity supply
Gym and spa
Clubhouse
Party hall
Wi-fi and mobile network
24/7 cafeteria
Yoga and sports and much more.
Know more about the amenities we are going to provide in "The Ewen Park".
FAQs
Conclusion
Ewen Realtors is building a township in Ranikhet also known as Queen's Meadow, one of the most beautiful hill stations in the state.
Let me introduce you to "The Ewen Park" a serene and elite-class township where nature is your neighbour.
Ranikhet is connected to 17 other hill stations within 100 kilometres, so if you want to explore them all, you can do so as well.
Located in three different locations, our township consists of three phases. Know more about details about our township.